There's no better way to beat the day's exhaustion than with some much-needed yoga and meditation. Moments of serenity are important to balance our minds and spirits, and there's no denying that the best place to relax is in the comfort of your own home. If you're looking to create a zen-inspired space that invites mindfulness to your home, look no further. Below we'll discuss how to set up your home for yoga practice; stay tuned till the end for some easy beginner practices!
---
Select and Prep The Space
Choose the Right Location for Meditation
Ideally, you want to relax in a quiet corner of your house where you can enjoy privacy. For example, a spare room or a corner of your bedroom. Bonus points if the location offers a calming view or enjoys natural light during the day.
What's the basic principle of meditation and yoga? Simplicity. So, while we're on our way to a clutter-free mind, it's essential to ensure we have a clutter-free space to ensure a calming atmosphere.
Remove everything you don't need, tuck away your yoga props in storage spaces (like a wicker basket mindfully placed in a corner), and regularly dust and clean your yoga corner.
A comfortable and non-slip floor is essential for at-home yoga practices. Always use a yoga mat for the comfort and protection of your joints and bones. You can incorporate soft floor cushions for meditating, or soften the floor by laying down a plush rug.
---
Set The Right Ambiance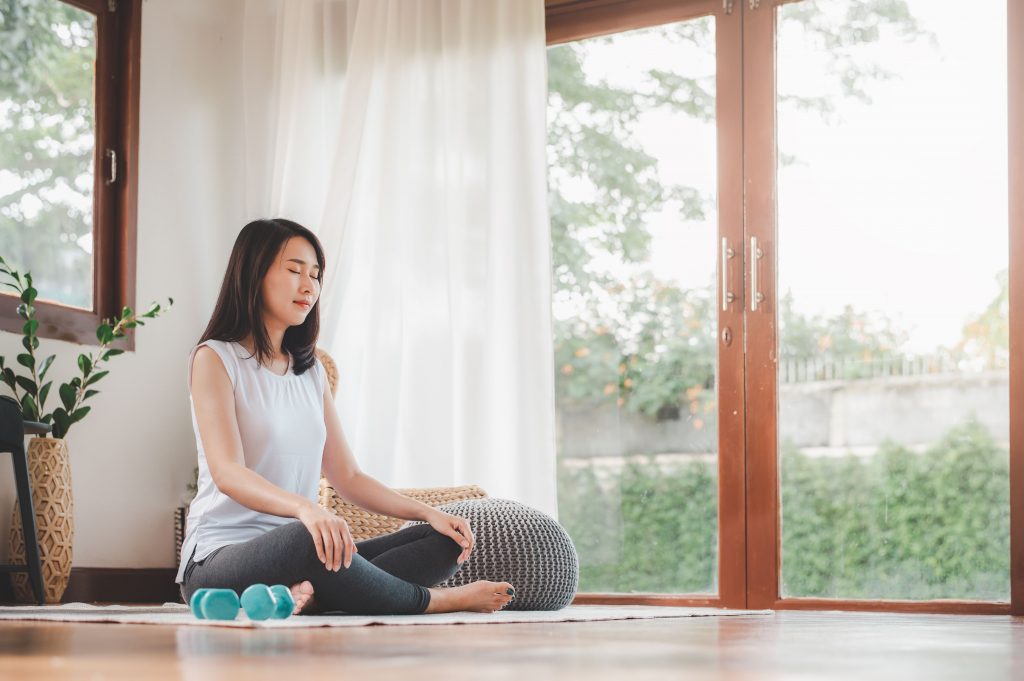 Setting the right mood makes a world of difference when trying to relax. For example, certain colors can make you feel at ease while others make you feel energized. The same applies to textures.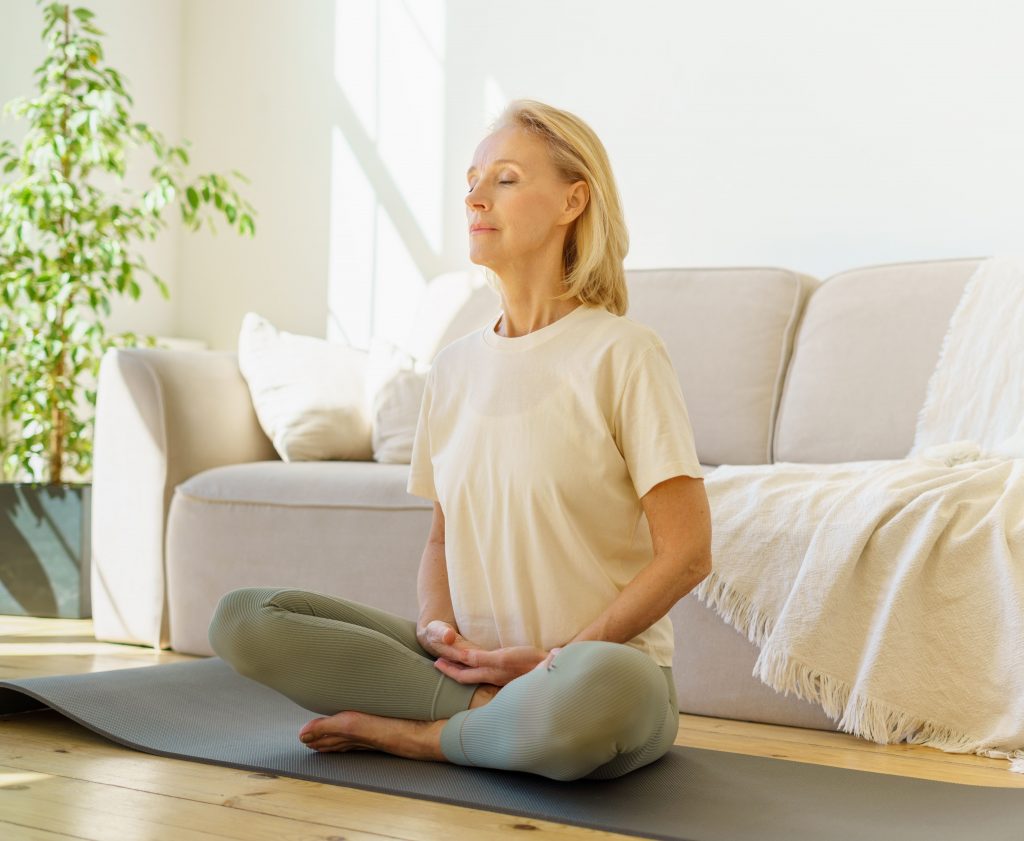 Opt for Soothing Colors
According to color psychology, soft and earthy tones evoke a sense of tranquility — perfect for your at-home meditation corner. For inspiration, you can consider one of the following color schemes, or mix them to curate your own:
Beige, sky blue, white, seashell pink
Sage green, creamy white, weathered gray, barn red (as an accent)
Warm Mediterranean blue, lime, ochre, white
Incorporate Plenty of Textures
Textures make your space inviting, and some can also create a grounding effect.
Think silk, cotton, and faux fur for your meditation pillows and cushions.
Connect with the earth with natural materials, such as bamboo and wood.
If you like a touch of rustic charm, consider woven textures like rattan.
Use smooth surfaces (such as mirrors) to diversify textures — and reflect light.
Work on Mood Lighting
While natural light will work well for the daytime, you should consider other sources for evening yoga and meditation sessions. Some of our favorites include:
Himalayan salt lamps
Candles
String/fairy lights
Consider soundscapes
When done right, sound can enhance your meditative experience. Use good-quality headphones or speakers to add soothing sounds to your space. For example:
Calming music
Soundscapes, like running water or chirping birds
---
Decorate the Space for At-Home Yoga and Meditation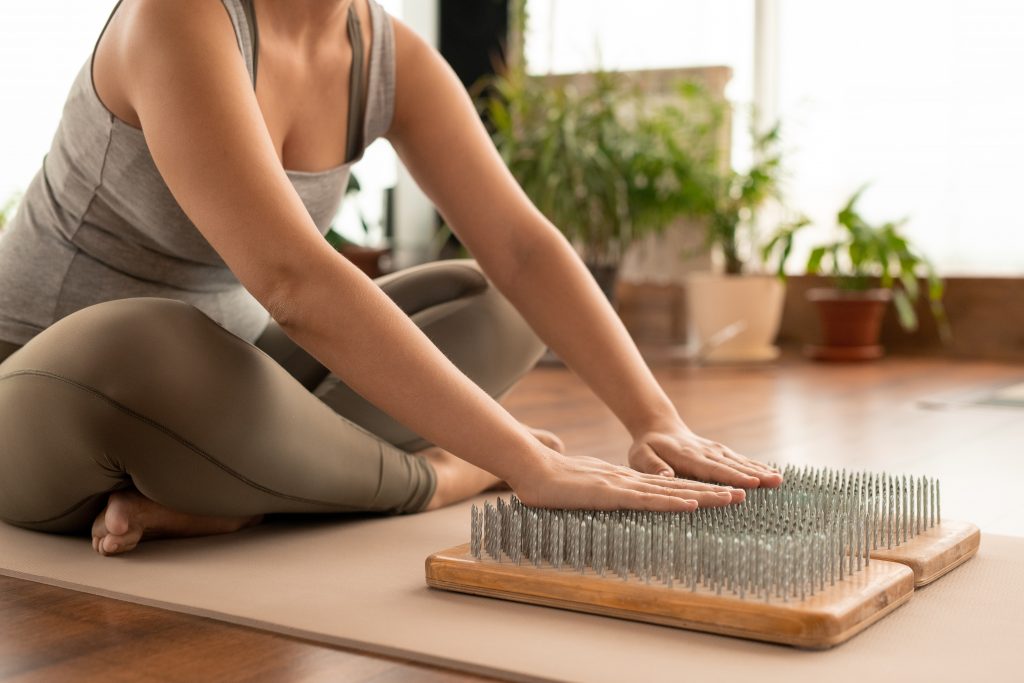 Add Mindful Decor
When it comes to decor, always choose items that add a sense of mindfulness. While the pieces should be those that resonate with your taste, a few common favorites include:
Inspirational quotes
Artwork depicting serene landscapes
Small sculptures that carry spiritual significance
Personalize Your Space
The finishing touch? Add items that hold personal meaning for you. For example, consider shifting your favorite plant to this corner or perhaps a collection of seashells you've developed over the years.
---
Time to Practice!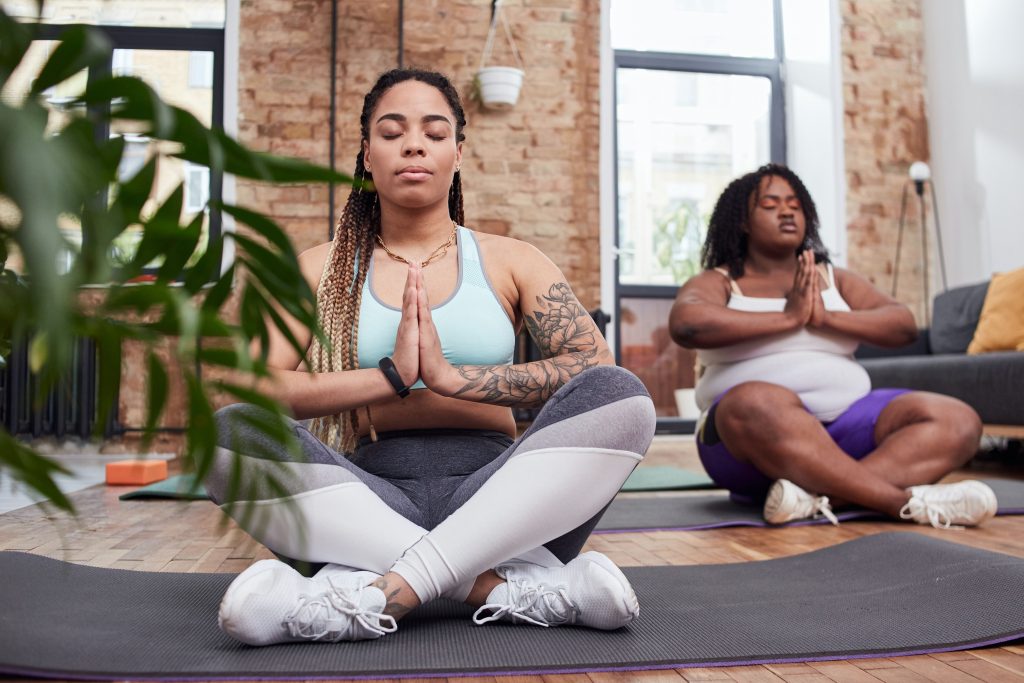 You've successfully transformed your space to practice meditation and yoga at home … but which home yoga practice should you opt for? Here's a list of some the names of easy poses that you can easily incorporate into your daily routine.
At-Home Yoga Practices
Child's Pose (for stretching the lower back and hips)
Mountain Pose (for improving body posture and overall awareness)
Cat-Cow Pose (for warming up the spine and improving flexibility)
Corpse Pose (final relaxation pose to wind down)
At-Home Meditation Practices
Mindful Breathing — close your eyes and bring your attention to your breath
Body Scan Meditation — mentally scan yourself from head to toe, looking for any pain or discomfort
Chakra Meditation — visualize each of the seven chakras (energy centers) in your body as spinning wheels, and cleanse them as you go
Yoga and meditation practices can make you feel like a new human, especially when done in the right space and with the right mindset. Always set your intention as you begin your practice. For example, finding inner peace or improving flexibility. This will help you stay focused while guiding your practice.
---