---
The Tea on
The One Cloth Story
Founder TG, unexpectedly began designing One Cloth clothing, accessories, and home decor decades ago when while on tour she had the unexpected realization that
"Fabric carries and connects us to the history, hopes, & traditions of every culture's quest to cultivate happiness."

Traciana Graves
---
The Brew
On How One Cloth Started
For Traciana, the global legacies of the stories from voices typically unheard are interwoven into each One Cloth line. This understanding has been the driving motivation behind Traciana's unwavering daily Traciana Happiness 360 Times routine while on tour.
Morning
Take a break from vocal training, rehearsals, sound checks, and press appearances to venture into the local marketplace.
---
Morning Brew
Sit with merchants in their stalls to drink thickly brewed teas always poured with great flourish.
---
Morning Pour
Take in the stories offered by the customers stopping by to share their counsel, as the merchant proudly unfolds a bolt of woven threads into a display.
---
Afternoon Brew
Visit the local tailor for pinning or fitting (while unsuccessfully trying not to move too much, while the tea simmers).
---
Evening
Experience deep connection when wearing performance evening gowns, shoes, and jewelry that have been brought to life.
---
---
The Pour On
The One Cloth 2024 Spring Collection
We look forward to revealing our introductory Spring 2024 Collection which will feature our signature home decor line featuring home linen kits including bedding, yoga mats, pillows, blankets, kitchen linens, and tablecloths as accessories. In addition, the One Cloth fashion line affords a full collection of clothing apparel, leggings, scarves, and caftan. Join our mailing list for updates and special previews.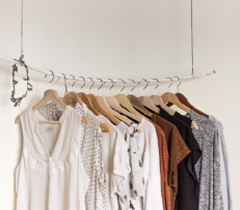 ---