I discovered Akwete cloth in a trade fair organized by Shell in Port Harcourt the capital of Rivers states Nigeria in 2011. it was a 7-day event at Isaac Boro Park. As I viewed the various cultural displaces, I was captivated by the colorful Akwete clothes. I needed to know more so I had to ask the woman at the stand some about the art. She told me that it was a tradition handed down to them in their area. In her words, the tradition has lasted many decades. It was a means through which women help themselves financially and also support their homes. The Akwete women get involved in this tradition in their prime, as early as 10 years. When I studied this tradition further, I discovered that most women in the trade were not so educated. Yet very bold to interact with and also have traveled wide in the course of their business. I then conclude that self-development and self-empowerment can be achieved without much education.
---
The Brew
Akwete is a household name among the Igbos in South-eastern Nigeria today, known for their art of weaving. This art of weaving began sometime in the 14th C.E., using raffia, special rope, and thin twins for the creation. The earlier creation was heavy compared to the present light silky woven cloth. This art reveals the inner nature of the Igbos, especially their women whose occupations it is to weave these materials. It showcases their industrious nature, hardworking, economic-driven lifestyle, and creative and totally visionary, people. The art of Akwete weaving enabled many women and even men to be self-empowered. With a loop, herm, and your palm as an Akwete lover, you are good to go.
---
The Origin of Akwete Weaving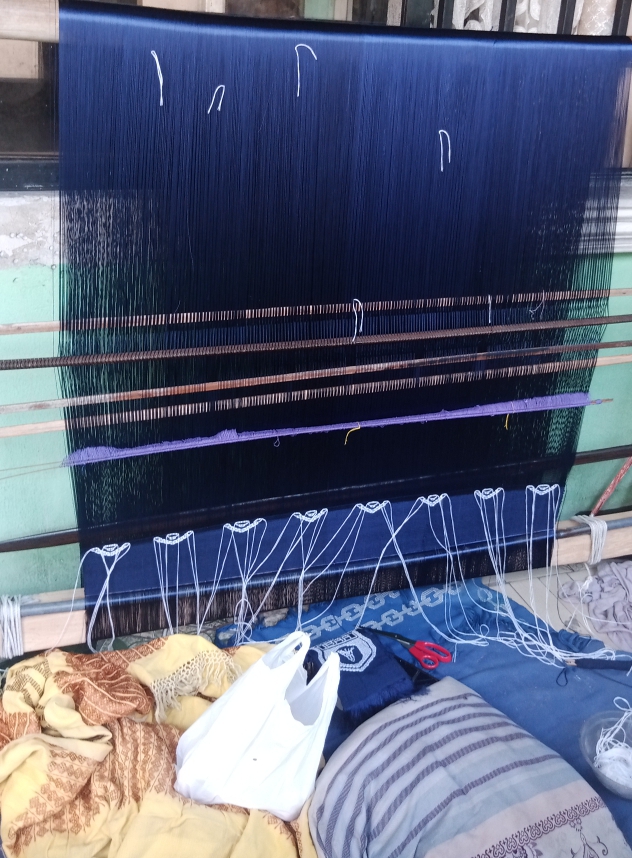 Starting with the loop; it's a structural base and if wrongly framed the product will be affected. This empowers me with the assurance that with a firm foundation, tomorrow is secured.
---
My Frist Lesson
Starting with the loop; it's a structural base and if wrongly framed the product will be affected. This empowers me with the assurance that with a firm foundation, tomorrow is secured.
About
It was in secrecy that the history of Akwete hand-woven cloth was shrouded. Some history related it to the Portuguese while others connected it to a woman called Dada Nwakata in 14th C.E. It was this legendary weaver that invented Akwete cloth and conveyed it by way of stereotyped cliché and mnemonic. It was said that through her unraveling of a Portuguese woven cloth, which she came in contact with, she created the Akwete weaving patterns. The lesson here is that through patience in research, Perseverance in pursuing an interest, commitment to a vision, being focused, and persistence Dada Nwakata achieved self-empowerment during her time. Which is still a value to follow to achieve self-employment today.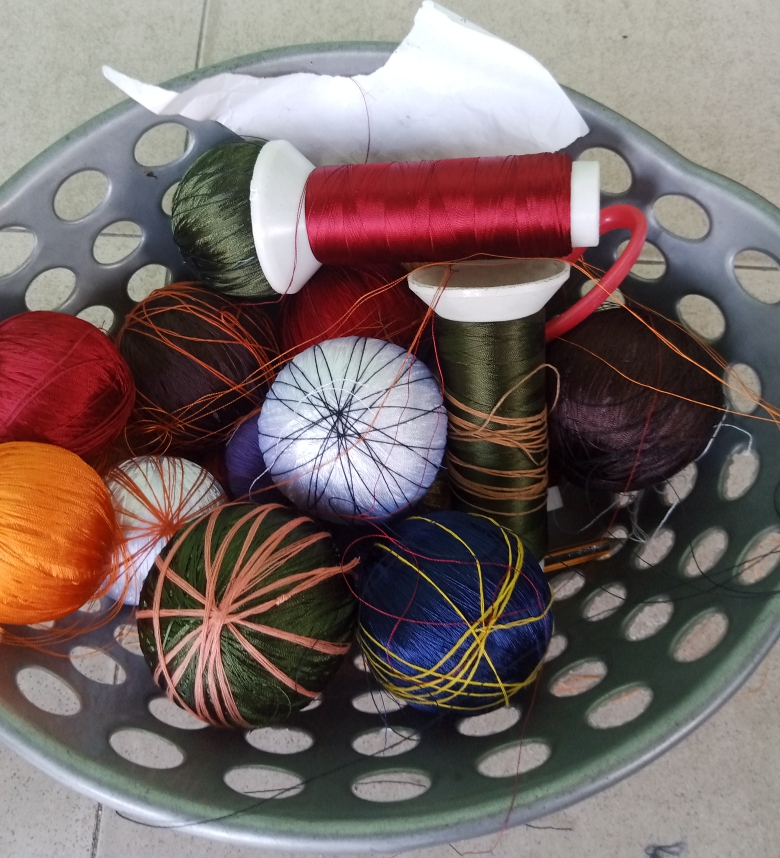 ---
My Second Lesson
The threads are very colorful, but without organization their beauty means nothing. This tells me that before one can be self-empowered one must be organized.
About
The creation of Akwete fabrics engaged the use of raffia, wool, sisal, silk, cotton, tree bark, and hemp. The art is manually created and this resulted in its beauty and uniqueness. Using the loop, the art is done in two parts the horizontal loom for the men's uses and the vertical loom for the women. It is always very colorful; a multi-colored cloth is realized by using low-twist cotton, shiny rayon, or silk consisting of decorative motifs for the base fabric. The art before now was dominated by natural colors. However, recently the spectrum has been broadened by imported colored thread and dyes. The industry today has enjoyed personal goal-setting, collaboration, self-confidence, skill development, and decision-making among weavers which has enhanced their self-empowerment.
Akwete Cloth Designs & Patterns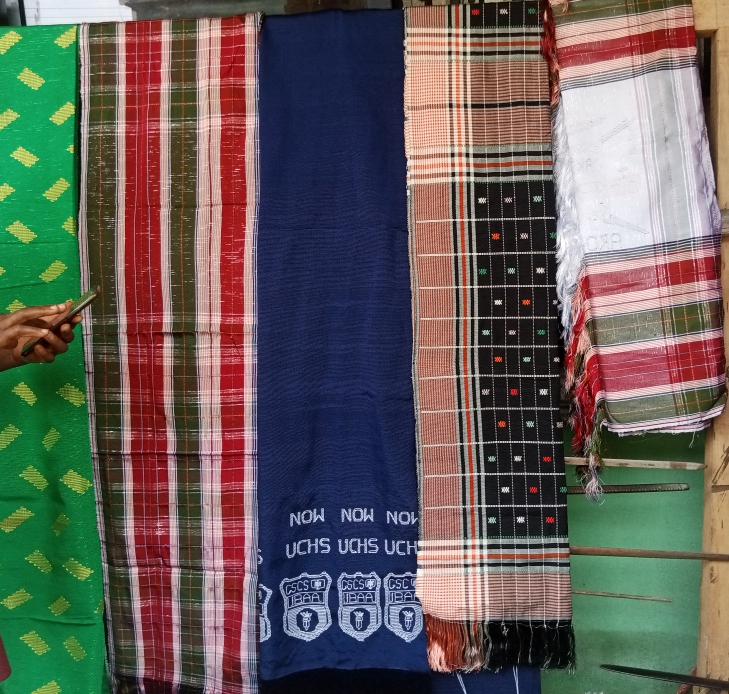 ---
My Third Lesson
The clothes selected are of a variety of shapes, designs, and patterns. Life is full of choices and it's up to each person to make a choice. Self-empowerment is a choice one can only be encouraged to be self-empowered but not forced.
About
The weavers of Akwete cloth claim to know over a hundred designs however only four major designs are used regularly. They are;
Strips and square designs which are mostly planned called Etiriet
The vibrant design and pattern called Akpukpa this design is greatly loved by tourists.
A complex design called Ahia, this design is directed by several cords or wires through which thread is passed for the weaving.
The community's special design is called Ogbanaonaeya.
There are other designs for masquerades, headgear for warriors, handbags for women, and towels for house use. They are also designed for cultural and social outings like dance, burials, traditional weddings, and chieftaincy celebrations. The making of these designs demands total commitment, the ability to face challenges, thinking out of the box, and determination to be the best in your chosen career, generally self-empowerment allows one the liberty to help others get empowered.
Akwete Cloth & Tourism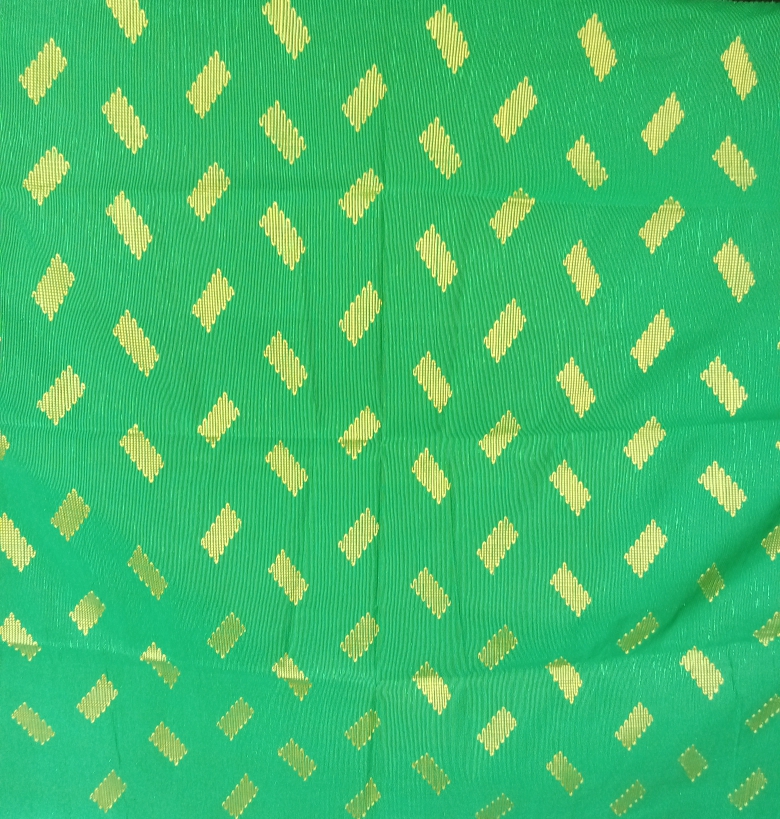 ---
My Fourth Lesson
The best is always showcased. When I and self-empowered I will be confident and bold to showcase my skills.
About
Akwete can be seen in the Akwete women's weaving cooperative and almost all the sixteen well-known museums in Nigeria. It can also be seen in the Metropolitan Museum of Art, and the British Museum to mention but a few.
Impact of Akwete On The Artist And the Community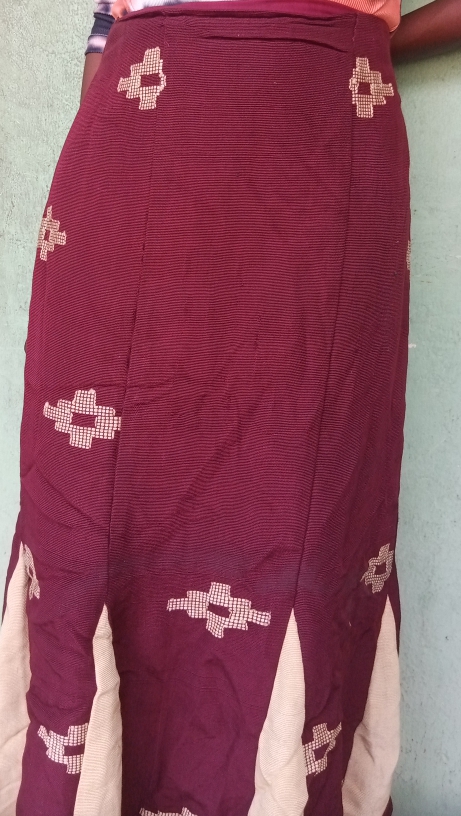 ---
My Fifth Lesson
Every community has a way of life and keeps its memories alive through their food, language, and wear. The love of oneself is the key to self-empowerment.
About
Most community in Igboland is known for one thing or the other. The Akwete community is exceptionally well known for the art of cloth weaving. This makes the community popular as a factory for this production. Many neighboring communities, groups, and associations patronize the Akwete weavers making it a house's whole name. The wearer who is always booked and busy had no time to indulge in social vice making Akwete town one of the most peaceful towns in the region. The women who are the chief weavers are economically empowered and also very supportive homemakers in the community.
---
The Long Pour
The Akwete cloth weaving has come a long way. Great innovations have taken place in the industry. Every generation has its own story to tell. This art has imparted to this generation by teaching us dignity in labor, self-confidence, patience, innovation, skilfulness, focused life, and a whole lot more. The good thing is that art is not static so is the weaving industry. It has kept improving and the patronage is very encouraging. The present generation should be committed to learning self-empowerment from this art because the future is bright.
---
By Ozioma Ogbonna Chibueze. "I love Culture, Tradition, and tracing Histories and issues of my interest. I have written various blogs to this effect."Currently a doctoral student of Curriculum Studies and Educational Technology, with an M.Ed., and a B.A