The Tea
The fashion industry has changed a lot over the past decade. Stereotypes about what is and isn't allowed are fading, making space for more inclusivity, diversity, and acceptance. This especially refers to body positivity in fashion.
When it comes to fashion, body positivity is all about embracing your shape and dressing in a way that makes you feel comfortable, and above all, happy.
The revolutionary movement is helping women of all sizes and colors accept and love their bodies as they are. In its original definition, body positivity means accepting, appreciating, and respecting the body, without feeling the urge to change it. Contrary to body positivity, body negativity traps a person into negative thoughts about the way they look, which reflects on their fashion choices, and on their overall well-being.
When it comes to fashion, body positivity is all about embracing your shape and dressing in a way that makes you feel comfortable, and above all, happy.
Championing this movement is something that the majority of fashion influencers are striving to promote lately. And not because they need to gain followers or promote their wardrobes, but to genuinely create change in an industry rife with unrealistic standards. According to Ashley Graham, a fashion influencer and model, her stance on body sizes is:
"I'm not a size zero, and that's perfectly fine with me".
Another popular influencer who promotes body positivity is Megan Jayne Crabbe. In her "Body Positive Power" book, she explains:
---
How can I tell my body shape?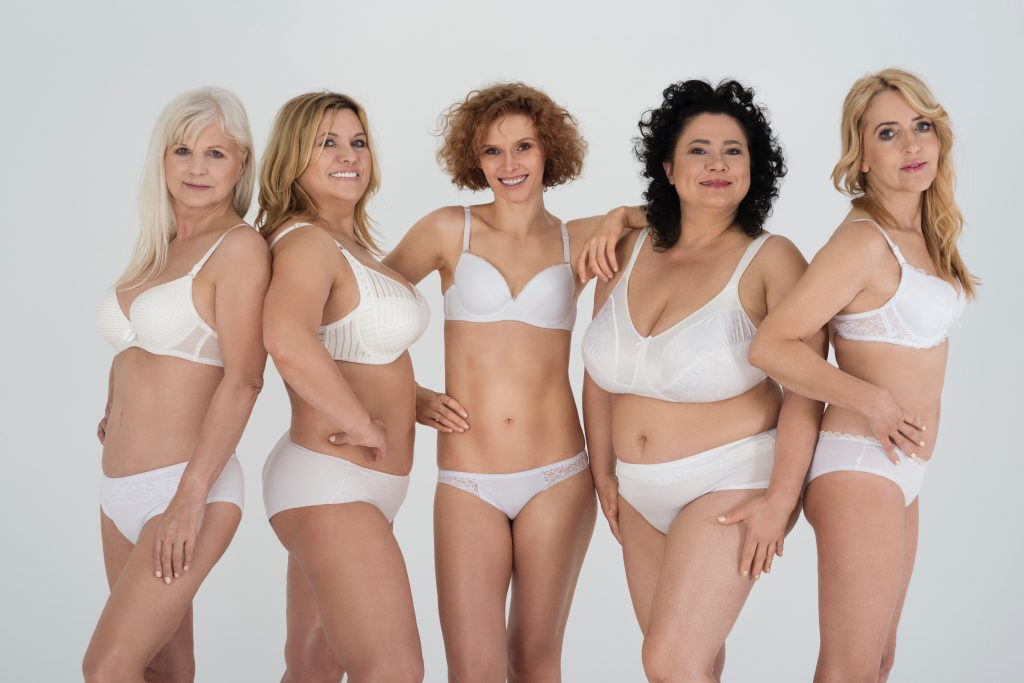 To embrace body positivity and dress for your body shape, there are several things that you need to know. The first thing is to determine your body shape. Here is a quick guide on how to do so.
Hourglass:
Your bust and hips are around the same width, and you have a well-defined waist.
Apple:
Your bust and waist are the widest parts of your body, with slimmer hips and legs.
Pear:
Contrary to the apple shape, your hips are the widest part of your body. You likely have a well-defined waist.
Rectangle:
Your body displays a look of balanced and equal proportions at your shoulders and hips. You likely have a slim waist, but it may not be as defined as an hourglass figure.
---
How To Embrace Your Body Shape
Now that you have determined what your body shape is, here are some tips to help you embrace it.
"I'm not a size zero, and that's perfectly fine with me"

Ashley Graham, fashion influencer and model
Accept Your Body
Celebrate and accept your body shape without having negative thoughts – you deserve it!
Remember, there is no true ideal body type despite what the media says. Beauty standards have changed so much throughout history and there never has been a universal agreement. Every shape is beautiful in its own way, and there are flattering options for all of them.
Experiment With Different Styles
Fashion today is diverse, offering a myriad of different styles and looks. If you don't experiment with the different styles available today, you never will. Find the silhouettes and colors that flatter your body, and discover newfound confidence around the corner.
Find Your Personal Style
The elements and aesthetics that resonate with your perception of fashion will make it easier for you to discover your personal style.
Get Inspired
Inspiration is all around you. You're no longer limited to fashion magazines that only showcase one body type. Look for fashion bloggers, body-positivity communities, and brands that promote body-positive fashion to find amazing style inspo.
---
"We want absolutely all bodies to be celebrated and idolized, represented, and glorified."

Body Positive Power,Megan Jayne Crabbe
---
How to Wear Clothes According to My Body Shape?
Hourglass Body Shape
Don't be afraid to flaunt your curves! Clothing that is too loose and oversized can create a boxy appearance, which can often feel unflattering. Instead, opt for form-fitting styles that show off your hourglass silhouette:
High-waisted pencil skirts
Wrap tops and dresses
Skinny and flared jeans
V-neck, scoop neck, or halter neck tops, dresses, and swimsuits
Mid-size prints like polka dots, stripes, and flowers.
Apple Body Shape
Apple-shaped beauties should think about creating balance with their clothing. Look for items that accentuate your legs while minimizing volume on your torso, such as:
Square, off-the-shoulder, v-neck, sweetheart, and scoop necklines on top and dresses
Tops and dresses with butterfly, draped, flared, or split sleeves
A-line skirts and dresses
Asymmetrical skirts and dresses
Boyfriend, bootcut, straight, or wide-leg jeans
Pear Body Shape
Like their apple-shaped counterparts, those with pear-shaped bodies should always keep balance in mind. Highlight your narrow waist and let your natural curves shine with the following items:
Fitted, crop, strapless, and off-the-shoulder tops
Low, wide, square neckline tops
Tops with interesting sleeves, such as embellished or voluminous sleeves
Prints with horizontal lines or bold colors
Princess or A-line coats and jackets
High-waist, A-line, and wide trousers
Wide-leg, flared, and straight-cut jeans
A-line or flared skirts
Rectangle Body Shape
Those with lean, rectangular frames can have fun playing with volume. Experiment with styles such as:
A-line skirts
Ruffled and layered tops
Skinny, slim, straight, bootcut, and wide jeans
Tops and dresses without sleeves, straps, sweetheart lines
Wrap dresses
Blazers and long jackets
---
The Pour
No matter which category you fall under, know that you are beautiful! If a certain style doesn't feel right with your body, there are plenty of others that will.
---