The Tea
For a long time, women did not pay attention to what they were wearing when they were flying. They would often just go with sweatsuits and sneakers as the most comfortable option. Some would even opt for jeans on shorter flights. However, thanks to social media and fashion influencers, traveling in style is something that many pay special attention to today. Especially when it comes to flying.
"I always wear a pair of sneakers or comfortable flats when traveling, so I can easily walk around the airport or train station."

Aimee Song
---
The Brew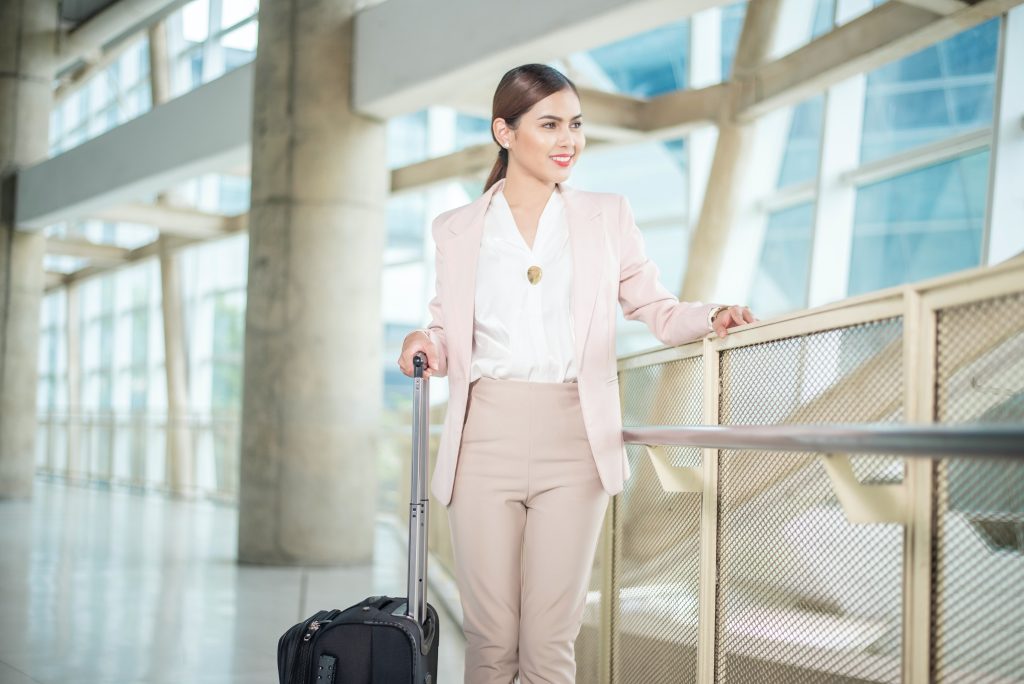 Modern-day fashion has redefined travel outfits. They're a perfect fusion of comfort and style, showing the world that you've got a serious style game no matter what.
To make flying more comfortable and enjoyable, here are some easy fashion tips that you can consider for your next trip.
---
Layering Is Key
A change in climate is something you'll often have to deal with when traveling. That's why layering is crucial. Whether you opt for a pashmina or oversized scarf that doubles as a blanket, a comfortable cardigan or sweater, or an elegant trench – you can't go wrong. Layering is a stylish way to help you deal with sudden temperature switches.
"I like to wear a cozy sweater or cardigan when traveling, so I can snuggle up and relax on the plane or train."

Julie Sariñana
---
Opt for Breathable Fabrics
Boost your in-flight comfort and cleanliness with breathable fabrics. Textiles like cotton, silk, and linen promote air circulation, so you can stay fresh and comfortable. Some great options are cotton t-shirts and hoodies, silk shirts, and linen pants.
Now that you know what to wear, here are some travel outfit ideas for when you fly.
---
White Sneakers + Jeans + White Top
This is a timeless combo that can be easily adjusted to match your personal style. We recommend white because it's easy to style and always looks clean and fashionable, but you can choose other colors if you prefer. If you're worried about staying comfortable in jeans, remember it's all about fit and fabric. Stick to looser styles like wide-leg, mom, or boyfriend jeans in buttery soft denim and you'll be golden. Complete your look with a statement bag or backpack, a scarf, and/or a jacket of your choice.
---
Crop Top + Leggings
This celebrity-approved airport look is easy, comfortable, and stylish. Leggings will provide you with the utmost comfort, while a crop top (don't worry, it doesn't need to be super short) delivers a super trendy airport look. Finish the outfit with sneakers or ballet flats, a purse or backpack, and a hoodie or jacket.
---
Biker Shorts + Oversized Sweatshirt
Biker shorts are a great option for traveling in the summer. For a stylish, Princess Di-inspired vibe, add a cozy oversized sweatshirt. Sneakers are an obvious choice for this cool athleisure look.
---
White Pants + Striped Shirt
White pants can easily make any travel outfit look more chic. Pick a style that flatters your body shape the most. Style it with a basic tank top and finish the look off with a denim shirt or striped knit. As for footwear, loafers, sneakers, or any kind of flats will look great.
---
Sweatshirt + Sweatpants
The athleisure industry has developed so much over the years, making this combination more stylish than ever before. A nice matching sweatsuit is an excellent travel outfit that provides great comfort and coziness. Sneakers are a natural choice for footwear, but you can also create an elegant contrast with a trench coat or a wool jacket.
---
The Pour
Discover the best of comfort and style with these easy travel outfit formulas!
---